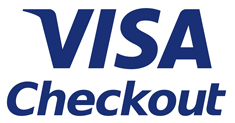 Visa Checkout
Pay online the easier way with Visa Checkout and your Goldenwest Visa card.
All it takes is a few simple steps and you can checkout in the fast lane. Only enter your credit card information once with Visa Checkout, then breeze through the checkout when you're shopping online with a single sign-in.
Convenience
Use Visa Checkout anytime, anywhere. Your smartphone, tablet, laptop or desktop. Visa Checkout works across all your devices, no matter where you are. So shopping stays convenient, and paying online is even easier. Look for the Visa Checkout button and pay with one secure login.
Where is Visa Checkout Accepted?
Visa checkout is available with thousands of online retailers with more being added all the time. For a full list of online retailers visit the Visa Checkout website
The easier way to pay online
Pay with a single login from any device
Never enter your credit card number online again
Guard your data behind multiple layers of security
Continue earning Extra Awards points on eligible Visa cards
The Easier Way to Pay Online