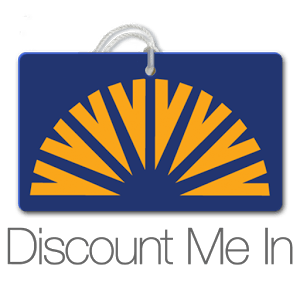 Discount Me In
The Goldenwest Discount Me In mobile app is the easiest way to save money on-the-go.
The mobile app uses location-based technology to alert you when you are near a money-saving opportunity at more than 100+ locally owned businesses throughout Utah. Users can search and browse all their discounts offered by Goldenwest plus 2,000 other retailers, merchants, entertainment venues, professional associations, and more!
With the Discount Me In mobile app, Goldenwest members now enjoy perks and discounts at great local merchants like Firehouse Pizzeria, Powder Mountain, Smokey's BBQ & Grille, and many more. The mobile alerts are customizable for each user, and allow you to add national memberships such as the USU Alumni Association, Costco, CVS, Kroger, AARP and more.
To receive your discounts, follow these simple steps:
Download the Goldenwest Discount Me In app on your phone, allowing location services and notifications within the app;
Visit participating merchants listed on the Discount Me In app;
Show the merchant the offer on your phone;
Use your Goldenwest Visa debit or credit card to make the purchase; and then,
Receive your discount...it's that easy!
Download Android Version Download iOS Version
Special Offers and Discounts Available:
Grounds For Coffee at Wisebird Bookery
10% off any purchase, does not apply to consignment items.
Ifly Utah
Save $10 off any First Time Flight Package
Jack and Jill Lanes (2 locations)
Buy one get one free for a game of Bowling or Laser Tag. Offer valid Monday through Friday before 6 PM.
Jerry Pierce, Realtor
Free Home Warranty on any Real Estate purchase
Johnny Rockets-3 locations
10% off your order (valid at Salt Lake City, Lehi, and Farmington locations only)
Krew Powersports
10% off any service or full service
La Ferrovia Ristorante
10% Tuesday through Thursday
Legacy RV Center
Save 10% off parts & service (certain sale items may be excluded)
Ligori's Pizza & Pasta
10% off any meal purchase
Lynnwood Service Center
Spend $100 & save $10; Spend $200 & save $15; Spend 300 & save $20; Spend $400 & save $25; Spend $500 & save $30. Also, $5 off on an oil change
Macey's
At Macey's, Happy Shopping® isn't just something we say, it's something we live by. Stop by and check us out or click the link to view our weekly ad.
Mercenary Automotive
New Perk: Receive $20 off any Brake Repair, $20 off A/C service, $50 off A/C repairs and various Battery Rebates. OLD PERK:Save $5 on any oil change, and 10% off any service, total discount up to $60 at Mercenary Automotive. Mercenary Automotive is dedicated to be your trusted source for your automotive repair needs. For details or to schedule an appointment, visit mercenaryautomotive.com call them at 801.292.MERC.
Morgan Valley Crafts
Free yard of ribbon with any merchandise or copy / print service purchase.
Morty's Cafe
Iconic Burger and Fries for $6 anytime
Mountain Donuts
10% off any in store order
Mrs. Cavanaugh's Chocolates and Ice Cream
10% off any purchase. Cannot be combined with other offers or discounts Save 10% off any purchase. Mrs. Cavanaugh's Candies is a chocolate and candy company that is known throughout the country for its remarkable taste, texture and dedication to excellence—qualities which have been unwavering since the very first pecan roll that Mrs. Cavanaugh created.
Mulligan's Creekside Golf Center
Get a large bucket of balls at the driving range for the price of a small bucket.
National Battery Sales
Save 10% off any retail purchase
Neverland Emporium
Confirmed for 10% off any 1 regular priced item per purchase (cannot be combined with Loyalty Rewards Program)
Nicolitalia Pizzeria
Free appetizer with the purchase of a Large or Extra Large Pizza
Pizza Factory Express
10% off any order
Pizza Pie Café: Clinton, Layton, and North Ogden
All-you-can-eat buffet, lunch or dinner, for only $5.50.  This includes our 11 signature pizzas, 8 amazing desert pizzas, plus a full salad and pasta bar! Limit of 4 adult buffets. Cannot be combined with other offers.
Platinum Car Wash & Detail (4 locations)
10% off any car wash. Goldenwest Mobile App or card must be presented. Offer cannot be combined with other discounts or special promotions.
Powder Mountain
15% our retail/regular prices. Not valid with other special offers.
Quilter's Attic
Enjoy a FREE fat quarter with any purchase of $20 or more.
Schneiter's Bluff Golf Course
Play 18 holes on any Wednesday and the cart rental is free ($12 value)
Subway (2 in Ogden)
FREE medium fountain beverage with any sub purchase at both Ogden stores
Swift Fitness
60% off your first month.
Tandoori Oven
10% off on your bill, minimum purchase of $25 or Free Rice pudding with a purchase of an entree and a bread. Cannot be combined with other offers.
Thai Jasmine Restaurant
Buy two entrees and get one free appetizer (up to $5.50 value)
The Barn Golf Club
15% of 18 holes of golf with a cart rental. Valid Monday through Thursday, must make reservations at 801-782-7320.
The Diamond Room
10% off any purchase or repair
The Factory Pizzeria
5% off any food purchase (open to increasing discount if he sees potential)
The Jump Zone
20% off admission
The Pasta Factory
10% off any order
The Peach Tree
Receive a FREE bath bomb with any purchase of $15 or more
The Pizza Factory
10% off any order
The Quilted Bear
10% off any product purchase with a maximum discount of $50.00. The discount is a good on one purchase per customer only. Disc/Offer cannot be combined with any other offer or discount. Maximum of one use of this discount per month per family.
The Sweet Tooth Fairy, Foothill Drive
10% off on any purchase
Toad's Fun Zone
Buy one mini golf game and get one free.
Two Creek Coffee House
20% off
Utah Tech Repair
$20 off any Computer Repair. Terms: Limited to hardware repairs only. One coupon per customer, per day.
Valley Nursery
$10 off if your spend $75 or more
Walker Cinemas
Couples Movie Night Combo, enjoy a large popcorn and 2 large drinks for only $9! For show times and details visit walkercinemas.net, call 435-753-6444, or swing by and visit us at 2297 N Main St, North Logan, UT 84341. We look forward to seeing you for your next date night.
Young Automotive Ford
Exclusive invoice pricing on any new vehicle purchase for Goldenwest members & special discounts on used vehicle purchases as well-see Chet for details on both deals/savings