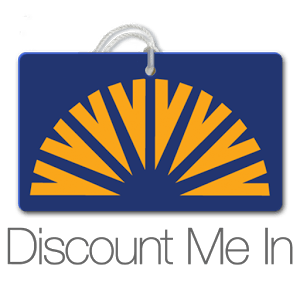 Discount Me In
The Goldenwest Discount Me In mobile app is the easiest way to save money on-the-go.
The mobile app uses location-based technology to alert you when you are near a money-saving opportunity at more than 100+ locally owned businesses throughout Utah. Users can search and browse all their discounts offered by Goldenwest plus 2,000 other retailers, merchants, entertainment venues, professional associations, and more!
With the Discount Me In mobile app, Goldenwest members now enjoy perks and discounts at great local merchants like Firehouse Pizzeria, Powder Mountain, Smokey's BBQ & Grille, and many more. The mobile alerts are customizable for each user, and allow you to add national memberships such as the USU Alumni Association, Costco, CVS, Kroger, AARP and more.
To receive your discounts, follow these simple steps:
Download the Goldenwest Discount Me In app on your phone, allowing location services and notifications within the app;
Visit participating merchants listed on the Discount Me In app;
Show the merchant the offer on your phone;
Use your Goldenwest Visa debit or credit card to make the purchase; and then,
Receive your discount...it's that easy!
Download Android Version Download iOS Version
Special Offers and Discounts Available:
40th Street Chiropractic
Goldenwest member receive a FREE initial consulting package. Inquire within the office or call for details on what this package includes. Call today to schedule your consultation with Dr. Patrick Conlin.
Back To Blocks
10% off any purchase over $60 use online code: 10GWCU60
Batteries Plus Bulbs - Layton, Ogden, St. George / Washington
15% off up to $50 or $10 off $50 or more-all locations are good Owns Layton, Ogden, St.George/Washington
BDO Outlet
Receive a free 10ct or 12ct tin of Lofthouse Cookies with any purchase using Goldenwest Debit or Credit Card.
Boondocks Food & Fun (2 locations)
"FREE Attraction Pass-Buy one round of miniature golf, a game of bowling, bumper boat ride, go-kart ride, laser tag game, XD Dark ride, or XD Theater ride and get the same attraction of equal or lesser value free.
Bountiful Davis Art Center
15% off on any purchase in our Gift Shop.
Bruce J. Barker Photography
10% off any purchase. Purchases can only be made through their website. (NEED CODE-SENT EMAIL)
Cache Valley Fun Park
Buy one get one free on an activity of your choice. Footwear not included.
Cedar Village Floral
10% off floral order pickup or delivery (excludes delivery fee)
Crossroads Fitness Sandy & West Jordan
$0 Enrollment and $0 Processing (Normally $49) on all membership options. The offer also includes one (1) introductory Personal Training Session and unlimited Group Fitness classes for $14.00 per month, valid at West Jordan and Sandy locations only
Crystal Inn St. George
$77 weekday and $87 weekend rates.
Dancer's Closet
10% off on Dance Apparel
Dartside  Indoor Dart Tag Arena
Buy 3 get One Free, Socks and Signed Waiver Required
Dickey's Barbacue Pit
FREE Big Yellow Cup beverage with any meal purchase, valid at Salt Lake and Farmington locations only.
FastKart Indoor Speedway-3 location
Members can enjoy their initial race for only $5 per person. May not be combined with any other discount or offer, non transferable. Call ahead for availability.
FatCats
10% off any food purchased in the Tailgaters Restaurant (no minimum) and 15% off any booked parties.
Fiiz Drinks (downtown Ogden)
On Mondays enjoy a free large popcorn when you buy any 2 drinks, and on Thursdays get a free size upgrade!!!  Deal only available at the Downtown Ogden location, not valid with any other offers.
Firearms Pro
10% off any item excluding firearms & ammunition
Firehouse Pizzeria (all 5 locations included)
15% off any purchase over $25.00
Firehouse Subs
Buy an sub sandwich and get chips and a medium drink FREE (Riverdale location only)
Fireworks Frenzy
Spend $10 or more and save $5. Only one discount per person per day
Flowrider Utah
Save $5 off your next regular priced visit to Flowrider
Gold's Gym (4 locations, 2 in Weber in Davis)
Save $10 off your first purchase at participating Gold's Gym locations