Goldenwest's 17th Annual Holiday Giving Campaign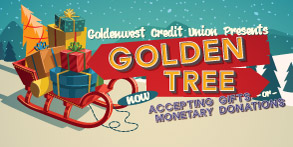 OGDEN, UT: November 22, 2017 – The 17th annual Goldenwest "Golden Tree" holiday giving campaign is now accepting donations from credit union members and the community. Goldenwest is sponsoring children from 25 different families referred to the credit union by Weber Human Services. This program provides local children with much needed winter clothing along with toys from each child's Christmas wish list.
If you would like to make a donation, visit any Goldenwest branch from Brigham City to Bountiful and choose a child's name from the Golden Tree display. Each tag will include a brief description of wanted toys or needed clothing. Unwrapped gifts should be delivered to the credit union no later than December 9th. Goldenwest employees will wrap the gifts and deliver them to Weber Human Services the week before Christmas. The credit union is also accepting monetary donations to purchase gifts and other needed items for the families. Cash donations are accepted at any Goldenwest branch.
Published November 21, 2017