Send Money Securely with P2P
July 17, 2017
Have you heard the terms Peer-to-Peer, Person-to-Person, or P2P for transferring money directly between two people? P2P is an electronic payment service offered by Goldenwest allowing members to conveniently move money from their personal credit union account to another person's account at any financial institution.
With P2P, you won't need to carry cash or write a check to pay someone. Our grown children often utilize P2P to reimburse each other for group birthday gifts, family excursions, or simply ordering pizza for all the grandkids.
P2P can be used to pay your hair stylist, daycare provider, piano teacher, or just about anyone who normally takes a check or cash for their services. You can use P2P to split the check at a restaurant, send money to your college kids, or pay back a friend who purchased your ticket to a baseball game.
With Goldenwest's P2P platform, you don't need to share your personal account number, making it a more secure option than other P2P providers in the market. Even better, P2P is free for Goldenwest members! You can learn more setting up P2P to pay your family, friends and service providers on our website.
Thanks to everyone who attended the grand opening celebration at our new Centerville office. Members are enjoying the convenience of a larger branch with drive thru lanes and new technology with the personal teller machines. This location will also become the primary office space for our Goldenwest Insurance Services employees who are working for a health insurance brokerage we recently acquired.
Congratulations to a fantastic worker in our Records Department who is the employee of the month! Whitney Newey is the leader of our Quality Control team. For Whitney, taking care of members means ensuring account information is accurate and files are complete in accordance with our policies and procedures. It's the hundreds of behind-the-scenes details that help keep Goldenwest safe and secure.
Each July we celebrate our heritage both as a nation and a state. The pioneers who gathered in Utah 170 years ago established service and industry cooperatives to build a thriving community. Today, that pioneer spirit lives through not-for-profit financial cooperatives known as credit unions. Goldenwest is owned and managed by members, and democratically controlled by a member-elected, non-paid Board of Directors. Our credit union operates for the purposes of providing loans and deposits at competitive rates, offering many free and reduced-fee services, and promoting thrift.
Each member plays a role in building and sustaining Goldenwest. The more products and services you choose utilize, the stronger our credit union will become. Our job, as managers and employees, is to take care of each member. Thanks for giving us the opportunity to serve you, and help you realize your financial goals.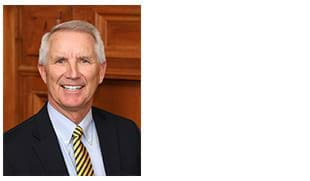 Kerry H. Wahlen
Email: president@gwcu.org
Twitter: @goldenwestcuceo