Earn Triple Rewards on Prime Day
July 6, 2018
If you're an Amazon Prime shopper, you're probably looking forward to "Amazon Prime Day" this month. Many savvy online shoppers refer to Prime Day as Black-Friday-in-July with the promise of some of the best deals all year.
Goldenwest Visa Rewards credit cardholders will earn triple Extra Awards points for every $1 spent on all Amazon.com purchases on Prime Day 2018. This year, Amazon Prime Day Deals will last for 36 hours, with special offers beginning in the afternoon of July 16th and running through July 17th.
What are you going to do with all of those Visa Extra Awards points you earn on Prime Day? Choose from flights, cruises, hotel stays, "bucket list" experiences and more with our travel rebate program. Redeeming points is easy and quick with your travel rebate deposited directly into your Goldenwest account. If you're looking to exchange points for goods and services, we have that too. Choose from dozens of gift card options from major online shopping merchants and brick-and-mortar retailers.
If you don't have a Goldenwest Visa Rewards card, you can add one to your wallet within a matter of minutes after walking into any of our Goldenwest branch locations. With Visa card instant issue, gone are the days where you apply for a credit card and then wait 7-10 business days for it to arrive in the mail.
Another event we look forward to each July is Pioneer Day. In 1847, Brigham Young declared "This is the right place" and soon thereafter the Mormon Pioneers established communities throughout the territory now known as Utah. These settlers set-up their commerce system with cooperatives.
Almost two centuries later, Utahns continue to benefit from co-ops. Goldenwest Credit Union is a non-profit, financial cooperative whose purpose is help members have access to viable financial services. Our mission isn't to maximize profits for stockholders; rather, we exist to provide the highest levels of products and services for our member-owners with affordable rates and terms.
With the support of our members and volunteers, we are fortunate that the hard work and dedication to our mission has resulted in successful endeavors for Goldenwest. Helping members reduce insurance premiums by up to 35 percent is one of the many ways our members save money. Paying our members more than $11 million in bonus dividends over the past 14 years is another example of the cooperative pioneer spirit that lives-on through our Credit Union.
The credit union philosophy of "People Helping People" is at the core of everything we do at Goldenwest. I encourage you to take advantage of the many money- and time-saving products that the Credit Union offers you as a member. Most of all, thanks giving us the opportunity to serve you and your family.
A few weeks ago we celebrated the 26-year Goldenwest career of Shauna Muirbrook, who served as the Vice President of Mortgages for close to two decades. We appreciate all she has done to help our members realize their home-ownership dreams, and wish Shauna all the best in her well-earned retirement.
I hope you're having a fun-filled and safe summer! If there is anything we can do as your family's credit union to make this time of year more enjoyable for you, please reach out to me at president@gwcu.org.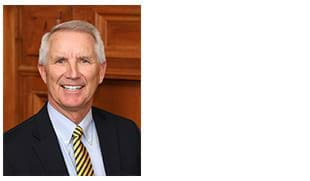 Kerry H. Wahlen
Email: president@gwcu.org
Twitter: @goldenwestcuceo