A Year To Remember
January 22, 2018
Amazing things happened at Goldenwest Credit Union in the past year! I want to share with you highlights from 2017, and our outlook for 2018.M
Financial Report In 2017, total assets grew by more than $96.6 million to $1,422,511,560 with return on assets at 1.27% or $17.6 million in net income. Our capital ratio increased to 14.1%.
For the first time, Goldenwest's loan portfolio surpassed $1 billion. Loans grew by $144.4 million, netting an overall 16.0% increase over the previous year. Our loan-to-deposit ratio moved from 82.1% to 86.6%. Delinquency remained low at 0.24% and net charge-offs were 0.34%.
We ended the year with 6.3% net member growth, bringing our total membership to 127,840.
Returning to Our Roots On April 11, 2017, we returned to the original home of our Credit Union when we held the 81st Annual Meeting at the historic Union Station in Ogden. We are grateful to the Ogden railroad employees who founded Goldenwest in 1936.
Healthcare Credit Union Merger Last May we successfully completed the operating system merger between Goldenwest and Healthcare Credit Unions. With this integration, Healthcare Credit Union members received full access to their accounts at Goldenwest and Healthcare branches and digital sites. Likewise, Goldenwest and USU Credit Union members gained access their accounts and services at the eight Healthcare Credit Union locations.
Insurance Services By the end of 2017, the Goldenwest Insurance Services division exceeded $50 million in premium for personal, commercial, and group health insurance. Last spring we acquired a health insurance brokerage, which allows us to provide Utah companies with group health, dental, vision, and life insurance. We also offer COBRA Administration, Health Savings Accounts and Flexible Spending Accounts. With decades of experience in the local market, we are researching plans and negotiating deals with multiple insurance providers to find the best coverage for Utah residents and workers at significantly reduced rates.
Branch Expansion We held four ribbon cuttings for new branch locations in 2017. Two of the offices, the Providence Branch and the Centerville Branch, were relocated to better serve existing members and provide greater exposure to local residents and businesses. The other two offices, the West Jordan Branch and the Marriott-Slaterville Branch, were opened in areas experiencing high residential and commercial growth. All of these branches offer the hybrid service model where members can receive personal one-on-one attention as well as experience new banking technology with Personal Teller Machines.
Bonus Dividend Continuing our long-standing tradition of paying Bonus Dividends, Goldenwest members collectively earned $1,750,000 on December 31, 2017. For 14 consecutive years, Goldenwest has returned a total of $11,225,000 to members through the Bonus Dividend program.
2018 Outlook Our local economy is strong, and opportunities abound for our members to improve their financial situations. It's a new year, which often inspires people to initiate new habits and goals. If your 2018 resolutions include building wealth, reducing debt, or planning for retirement, we stand ready to help you succeed with investment plans, loan products, and insurance services.
We are continuing with several branch improvement and expansion projects. Some of our longer-established branches are slated for remodeling and upgrades this year. The Farmington branch is under construction and should open in late spring.
Likewise, we continue to invest in our online and mobile branch platforms, to provide you with the latest and most secure innovations in digital banking technology.
Congratulations to Hortencia Soto, our employee of the month. Hortencia works in our South Ogden branch, located on the ground floor of the Corporate Office. Hortencia exhibits professionalism, a positive attitude, and an unwavering commitment to our members in everything she does. She is truly an asset to the Credit Union, and is especially deserving of this recognition.
I appreciate and value your membership with Goldenwest. The best things in life are not things at all, but rather it is the people who surround us, influence us, and help us. Best wishes for happiness and prosperity in the year ahead!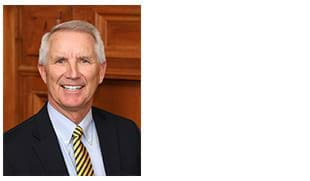 Kerry H. Wahlen
Email: president@gwcu.org
Twitter: @goldenwestcuceo