Easy and Rewarding Online Payments
October 23, 2017
Chances are you, or someone in your household, is shopping online on a regular basis. According to recent reports, e-commerce is projected to account for 12.9% of retail sales for 2017 in the U.S. Five years forward into 2022, it is expected that 17% of all retail sales will occur online.
If you're like me, your online payment choices and habits are driven by convenience. The last thing I want to do is re-enter all of my shipping and billing information for every purchase.
Recently I took a few minutes to enroll my Goldenwest Visa Rewards card in Visa Checkout, allowing me to speed through the online checkout process with a single sign-in. Enrollment is simple and free. Even better, Visa Checkout gives me confidence knowing Visa uses advanced security tools to store my personal data.
As an incentive to our members who choose Goldenwest Visa Rewards for e-commerce purchases, we're offering triple Extra Awards points on all online, mobile wallet, and recurring payments during the month of October. This is a great opportunity to build your points balance for future Rewards!
A few weeks ago we held a grand opening celebration for our 38th branch. Our newest office is in Weber County, conveniently located off I-15 in Marriott-Slaterville. We couldn't be more thrilled to located in such a fabulous location and welcoming community.
We're excited about the new and innovative ways we are serving members at Goldenwest. If you live in Salt Lake County, we hope you are taking advantage of the Healthcare Credit Union offices that are part of our branch network. If you are one of the 7,000 Healthcare Credit Union members who recently joined the Goldenwest family, we invite you to take advantage of all of the money and time-saving products and services we offer.
Congratulations to Lizzy Ross, our employee of the month. Lizzy works in the Fraud Department, protecting members from unauthorized transactions on their accounts. If you've been a victim of a scam or identity theft, you know how important it is to have competent and caring individuals helping you. We appreciate Lizzy for her important work in serving our members.
I sincerely thank you for your continued support and patronage of Goldenwest. As always, I enjoy hearing from members at president@gwcu.org. Share with me your thoughts and ideas on how we can improve your credit union experience and help you achieve financial success.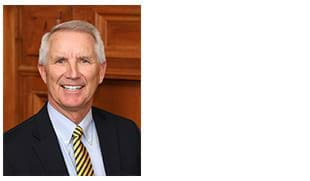 Kerry H. Wahlen
Email: president@gwcu.org
Twitter: @goldenwestcuceo