$2 Million Bonus Dividend
December 11, 2019
As we approach the end of 2019, I wish to thank our members for your loyalty, reflect on our accomplishments during the past twelve months, and look forward to 2020 and the new decade before us.
The year will wrap-up with a $2 million Bonus Dividend. Since 2004, the Bonus Dividend program has surpassed $15 million in direct earnings for our members.
Why are we returning $2 million to our members in the form of a Dividend? The answer is simple: Goldenwest is a not-for-profit financial cooperative. As a Credit Union family, we return earnings to members in the form of higher dividends, lower rates on loans, and free services.
The total dividend earned by members for the month of December will be 4.50% APY. The dividend is paid on core accounts including savings shares, IRA shares, and Christmas Club shares.
The Bonus Dividend is just one of the many ways Goldenwest is accomplishing the Credit Union's initiative of providing greater benefits to loyal members. In 2019, we enhanced our President's Club program to provide higher earnings up to 0.25% on Certificates. Plus, we introduced Reward Yourself Checking giving members the opportunity to receive a 0.25% discount on auto loans and earn bonus Extra Awards points Visa Credit and Debit card purchases.
With the record-low mortgage rates we have experienced this year, members who have met with our mortgage experts will save thousands of dollars in interest payments on new home purchases and existing home refinances. Likewise, our in-branch insurance experts have helped more members than ever by procuring significantly lower premiums without sacrificing coverages on home, auto, RV, and umbrella policies.
I'm pleased to report Goldenwest is appropriately protecting assets and providing stellar member service while creating a gratifying work environment for our employees. Our Credit Union was recognized for financial strength with an A+ Rating for the fifth consecutive year from DepositAccounts.com. Goldenwest was named "Best of State" in the credit union category for the tenth time in 12 years, and Utah Business magazine honored Goldenwest as one of "Utah's Best Companies To Work For" in 2019.
We continue to invest in our Credit Union to provide better in-branch experiences for our members. In 2019, we opened two new offices located in Sandy and St George. Our branch network continues to grow across the state, with new branches scheduled to open in five different counties next year – Weber (Eden), Utah (Orem), Salt Lake (Bluffdale), Cache (North Logan), and (Washington) St George.
Along with our plans for branch expansion, Goldenwest has dozens of product enhancements and promotions planned for the coming year. But our vision goes beyond 2020 and well into the new decade. We are continually developing our digital payment and service channels, providing you with greater security, value, and convenience in accessing your money and managing your finances 24/7. Our back-office support system is also growing, providing more Utah-based jobs that help build our local economy plus career advancement opportunities for our dedicated employees. Stay tuned for exciting Credit Union announcements in upcoming blog posts.
Thank you again for a great 2019, and best wishes for a safe and joyous holiday season!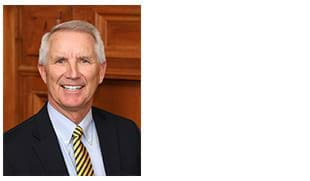 Kerry H. Wahlen
Email: president@gwcu.org
Twitter: @goldenwestcuceo