Join the President's Club
January 16, 2019
As a member of Goldenwest Credit Union, you belong to our not-for-profit financial cooperative. The more products and services you have with Goldenwest, the stronger our not-for-profit cooperative stands. As such, if you have deposits and a checking account at other financial institutions, we invite you to bring them to Goldenwest to allow us to continue to build the Credit Union for generations to come.
In appreciation to our members who are actively participating in the Credit Union with their savings strategies, checking relationships, and overall financial well-being, we recently re-introduced the Goldenwest President's Club. Members with $50,000 or more on deposit in Savings, Certificates, IRAs, and Money Market Accounts are eligible to join the President's Club. As a member of the President's Club, you can receive a rate increase up to 25 basis points on your Certificates depending on your level of engagement with the Credit Union. In addition, President's Club members can receive other benefits such as higher check-limit approvals, free home appraisals, free unlimited checks, safe deposit discounts, and more.
There are no fees to participate in the President's Club. This benefit is available to any member who meets the aggregate deposit balance requirement of $50,000 or more at the Credit Union. To opt-in to the President's Club, visit any Goldenwest Credit Union, USU Credit Union, or Healthcare Credit Union office. Or, call our Member Contact Center at 800-283-4450. For more information about the President's Club, link to our webpage with complete details.
We recently held a ribbon cutting and grand opening celebration for our new branch location in Sandy. We opened our original Sandy branch in 2004 inside Macey's grocery store. It was a thrilling event as we opened our first office in Salt Lake County. Over the past 15 years, we have established a solid relationship with thousands of members in Sandy and throughout Salt Lake County. Late last month we moved our Sandy branch about 100 yards away, with a new office located southeast of Macey's in the same shopping complex. We are excited to provide our members with a more spacious branch, and easier access with a convenient parking lot and new drive-thru lanes. Our management and branch service team remains in place, with Joshua Peart as the manager ready to assist you with your loan, deposit, mortgage, and insurance needs.
With the passage of time comes bittersweet moments such employee retirements. After 34 years of hard work and dedication, Renee Cragun in our Information Technology Department is bidding us farewell. We appreciate the talents and skills Renee has brought to Goldenwest, and wish her the best in her well-deserved retirement.
Last year was fantastic for our members, capped-off with a $1.975 million Bonus Dividend. I look forward to presenting the 2018 Financial Report in my next blog post, and sharing more exciting news about your Credit Union. Best wishes for a happy and prosperous New Year!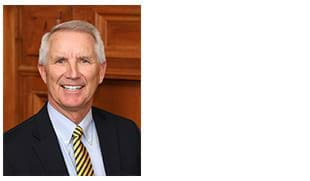 Kerry H. Wahlen
Email: president@gwcu.org
Twitter: @goldenwestcuceo