Maximize Your Points Earning-Potential on Amazon Prime Day 2019
July 8, 2019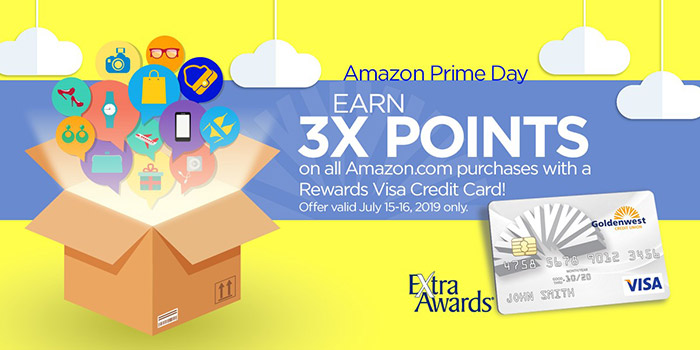 Is Amazon Prime Day your Black-Friday-in-July day? If you answered with an enthusiastic YES, you're not alone. And now, there is another way to celebrate the online savings -- Goldenwest Visa Rewards credit cardholders will get even more bang for their buck by earning three Extra Awards points for every $1 spent on qualifying Amazon.com purchases on Prime Day 2019. That's right…triple points on Prime Day!
Maximizing your Visa Extra Awards points on Amazon Prime Day will help you hit your rewards-earning goals faster. Your vacation options are endless with our travel and experience rebate programs allowing you to get reimbursed for qualifying flights, cruises, hotel stays, car rentals, amusement parks, "bucket list" items and more. If you're looking to exchange points for merchandise and meals, choose from dozens of gift card options at major online shopping merchants, brick-and-mortar retailers, and popular restaurant chains.
If you don't have a Goldenwest Visa Rewards card, walk into any of our Goldenwest branch locations and we will get you one in a matter of minutes. With Visa card instant issue, gone are the days where you apply for a credit card and then wait 7-10 business days for it to arrive in the mail. You can also apply for your Visa Rewards card online.
Amazon Prime Day will last for 48 hours, with special offers beginning at 12 a.m. Mountain Time July 15th and running through July 16th. For complete details on Prime Day times and deals, visit amazon.com.