Zaudke Named New Branch Manager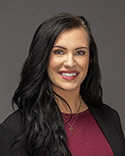 OGDEN, UT: December 2019 – Goldenwest Credit Union is excited to welcome Auburn Zaudke to the position of Business Development Manager of the Lehi office located at 760 East Main Street in Lehi. Zaudke will supervise all branch operations and business development, originate mortgages and offer personal lines of insurance as a licensed agent.
Zaudke has been with Goldenwest Credit Union since December 2019. She has previous management experience in retail and worked two years as a credit card manager for Cabela's. She graduated with an associate degree in business management from Utah Valley University.
Zaudke enjoys spending her time outside of work fishing, horn hunting and refinishing old furniture.
Published March 3, 2020