Froerer Named Assistant Vice President at Goldenwest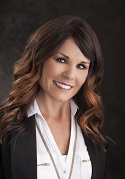 OGDEN, UT: July 17, 2012 – Tonya Froerer was recently promoted to the position of Assistant Vice President at Goldenwest Credit Union. She will supervise branch operations and business development for the Roy, West Ogden and Farr West branches. Her main office will be at the Roy branch located at 5627 South 2025 West.
Froerer began her Goldenwest career 12 years ago on the teller line. She quickly advanced through the ranks, working in every branch position possible until she was named branch manager for the Roy office in 2006. In addition to consistently ranking among the top three mortgage originators in the organization, Froerer manages one of the busiest offices in the Goldenwest branch network.
Froerer serves on the Goldenwest loss mitigation committee, and is a master graduate of Rapport Leadership. She also enjoys donating towards the talents of Building Utah Youth, a leadership Organization for Utah teens and is a strong supporter of Ogden Pathways.
Froerer has political and real-estate ties in Northern Utah. She works hard at building relationships within her family's real-estate company and local business people. Outside of Goldenwest, Froerer focuses on her family as the mother of two young boys. She keeps them active in soccer, mountain biking, charity running, hockey and various other sports and community functions.
About Goldenwest Federal Credit Union
Celebrating their 75th anniversary in 2011, Ogden-based Goldenwest Credit Union currently operates 20 branches with offices in Weber, Morgan, Davis, Salt Lake, Utah and Washington Counties. Goldenwest holds $800 million in assets and has more than 85,000 members. The credit union is a leading provider of consumer loans, mortgages, free checking services and deposit products throughout Utah.
Published July 18, 2012