Summerhays Named New Branch Manager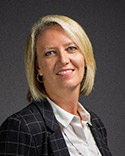 OGDEN, UT: February 5, 2020 – Goldenwest Credit Union is excited to welcome Andrea Summerhays to the position of Business Development Manager of the Eden office located at 2461 N Highway 158 in Eden. Summerhays will supervise all branch operations and business development, originate mortgages and offer personal lines of insurance as a licensed agent.
Summerhays has been with Goldenwest Credit Union since August 2019 and previously worked for a Title company as an Escrow Officer, Real Estate and Property Management and has a background in IT corporate training.
Summerhays loves living in the Ogden Valley and enjoying everything it has to offer. She enjoys being outdoors, hiking, golfing and spending time with family.
Published March 3, 2020