Newman Receives Promotion To Assistant Vice President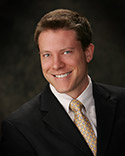 OGDEN, UT: February 21, 2019 – Goldenwest Credit Union is announcing the promotion of Lance Newman to Assistant Vice President of Sales. He has worked as the Credit Union's Sales Manager since 2011.
Newman's responsibilities include providing direction for Goldenwest's 600+ employees in regards to membership and product growth; creating and delivering onsite sales training for branch employees; and, developing company-wide educational resources to help employees provide exceptional member service. His areas of expertise include formulating and implementing team vision and strategy; public speaking; and, professional coaching.
Prior to joining the Sales Department, Newman served as a Goldenwest Branch Manager, Assistant Manager, outbound sales representative, and teller. He has worked for the Ogden-based Credit Union since 2007.
Newman earned a Bachelor of Arts degree from Weber State University with a double major in the Spanish and German languages. He is currently pursuing a Master of Business Administration degree.
Published February 21, 2019