Miranda Named New Branch Manager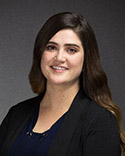 OGDEN, UT: August 2019 – Goldenwest Credit Union is excited to welcome Jennifer Miranda to the position of Business Development Manager of the Bountiful office located at 2085 Orchard Drive in Bountiful. Miranda will supervise all branch operations and business development, originate mortgages and offer personal lines of insurance as a licensed agent.
Miranda has been with Goldenwest Credit Union since September 2012. She started as a teller and has been given opportunities to grow from there.
Miranda grew up in the Clearfield area and loves the Davis and Weber County communities. In her free time, Miranda enjoys playing board games, hanging out with family, spending time outdoors and vacationing.
Miranda and her team look forward to assisting you at the Bountiful office.
Published March 3, 2020