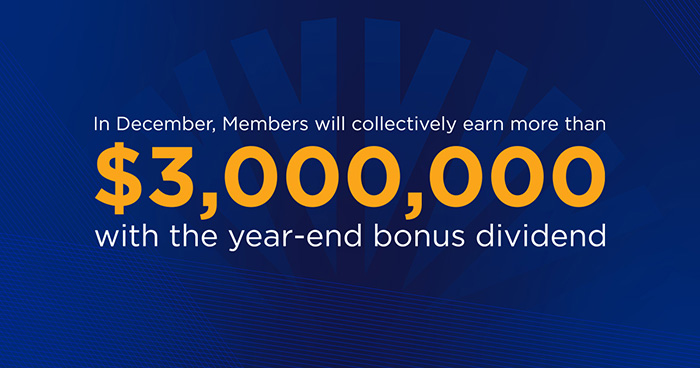 Members Earn $3 Million with Bonus Dividend
OGDEN, UT: November 22, 2021 – Goldenwest Credit Union is announcing their members will collectively earn more than $3 million with the 2021 year-end Bonus Dividend. The Credit Union's Board of Directors approved the dividend during the November Board Meeting. This year's bonus dividend payout is an increase of 36 percent over 2020. For the past 18 years, the Bonus Dividend program has returned $20.4 million in earnings to Goldenwest members.
"Members should be pleased that our Credit Union is thriving, even during the on-going challenges of the pandemic," stated Bill Hart, Chairman of the Board. "On behalf of the member-elected Board of Directors, I'm pleased to announce a total dividend of more than $3 million that members will earn for the month of December."
"Ongoing member loyalty is a key factor in allowing us to return in excess of $3 million to our members," commented Kerry Wahlen, President/CEO. "The bonus dividend program is one of the top benefits our members receive by choosing Goldenwest Credit Union as their primary financial institution."
The one-time dividend of 4.30% Annual Percentage Yield (APY) that will be paid on top of the stated monthly dividend of 0.05% APY. Members will earn 4.35% APY for the month of December on primary shares, secondary shares, Christmas Club shares, and IRA shares. Dividend earning amounts will vary by member based on the average daily balance in their individual accounts over the 2021 calendar year. Members will automatically have the dividend deposited to their share savings accounts on January 1, 2022.
Published November 19, 2021