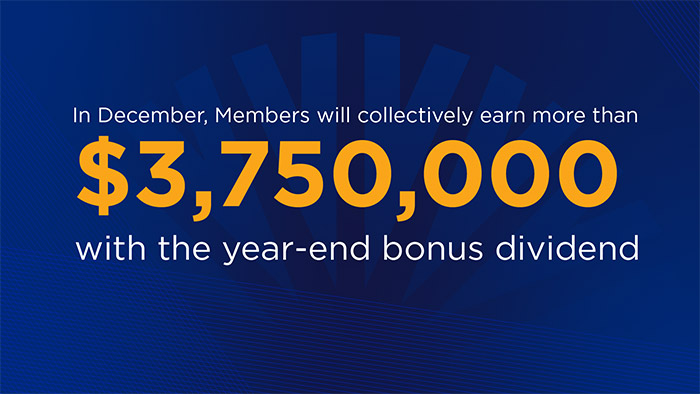 Members Earn $3.75 Million Bonus Dividend
OGDEN, UT: November 29, 2022 – Goldenwest Credit Union has announced that their members will collectively earn more than $3.75 million with the 2022 year-end Bonus Dividend. The Credit Union's Board of Directors approved the dividend during the November Board Meeting.
"The Bonus Dividend program is a key benefit of Goldenwest membership," commented Dan Musgrave, Chairman of the Board. "We are grateful for our loyal members who make it possible to continue this 19-year tradition."
The one-time dividend of 4.40% APY will be paid on top of the stated monthly dividend of 0.05% APY. Members will earn 4.45% APY for the month of December on primary shares, secondary shares, Christmas Club shares, and IRA shares. Dividend earning amounts will vary by member based on the average daily balance in their individual accounts over the 2022 calendar year and will be deposited into savings accounts on January 1, 2023.
"The year-end Bonus Dividend is an annual reminder of the value of participating in our not-for-profit financial cooperative," stated Kerry Wahlen, President/CEO. "With the support of our volunteer Board, we are thrilled to make a positive impact on the financial well-being of our members with the Bonus Dividend."
Founded in 1936, Goldenwest Credit Union is a leading provider of financial products and services throughout the state of Utah. As a not-for-profit financial cooperative, Goldenwest is owned by its 172,000+ members. The $2.7 billion Credit Union has 45 branches in Utah and Idaho, including the USU Credit Union division in northern Utah.
Published November 30, 2022