Keith Named New Branch Manager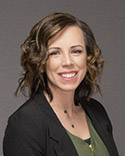 OGDEN, UT: December 2019 – Goldenwest Credit Union is excited to welcome Aivree Keith to the position of Business Development Manager of the West office located at 3217 Pennsylvania Ave in Ogden. Keith will supervise all branch operations and business development, originate mortgages and offer personal lines of insurance as a licensed agent.
Keith has been with Goldenwest Credit Union since June 2011. Before accepting the management position, she started as a teller and later transferred to be a mortgage processor.
In her free time, Keith enjoys spending every available minute with her family.
Keith looks forward to interacting with our members again and is eager to learn and grow from this new adventure.
Published March 3, 2020