Hodges Announced to Assistant Vice President, Branches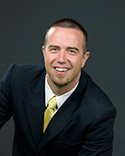 OGDEN, UT: April 19, 2022 – Goldenwest Credit Union has promoting Dustin Hodges to the position of Assistant Vice President, Branches. Hodges will supervise operations and business development for the Farr West, Harrison, Marriott-Slaterville, Eden and Brigham City branch locations.
With over 15 years of experience working for Goldenwest, Hodges will continue to serve members as a top mortgage originator and personal lines insurance agent as well as facilitate consumer loans and new account processes. His office will remain at the Farr West branch office located at 1765 West 2700 North.
Hodges, a native of Weber County, enjoys the outdoors, hunting, fishing and sports. He especially appreciates spending time with his wife and three sons.
Published April 29, 2022