Hendrickson Named New Branch Manager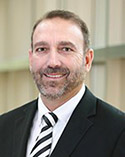 OGDEN, UT: August 12, 2019 – Goldenwest Credit Union is excited to welcome Duane Hendrickson to the position of Business Development Manager of the Washington office located at 2122 East Riverside Drive in St. George. Hendrickson will supervise all branch operations and business development, originate mortgages, and offer personal lines of insurance as a licensed agent.
Hendrickson brings 20 years of financial services experience to Goldenwest, including time with Beehive Credit Union and Security Federal Credit Union. He has worked in various management and operations positions. He holds a Bachelor of Arts in Business/Finance from Southern Utah University.
Prior to employment with Goldenwest, Hendrickson spent the last 18 months as an insurance agent with Farm Bureau Financial Services.
Hendrickson is highly involved in the community. He has enjoyed serving on the Board of the St. George Chamber of Commerce, coaching various youth sports, and volunteering for local events. He loves spending time with his family and watching and playing sports.
Published August 26, 2019