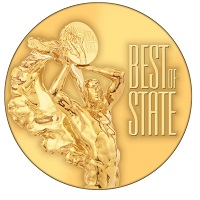 Goldenwest Recognized for 12th Year as "Best of State"
SALT LAKE CITY— April 30, 2021: For the 12th time in 14 years, Goldenwest Credit Union has been named Utah's "Best of State" winner in the credit union category.
"Goldenwest is honored to receive the 'Best of State' award, and be recognized for our efforts as we fulfill our mission as a not-for-profit financial cooperative dedicated to member service," stated Kerry H. Wahlen, President/CEO.
Wahlen noted that Goldenwest has deep roots in Utah and employs close to 700 people across the state.
"It has been 85 years since the Credit Union was founded by a handful of Ogden railway and depot workers with $10.50 in assets," continued Wahlen. "Today, Goldenwest is thriving with 43 branches from Logan to St George, more than 152,000 members, and $2.3 billion in assets."
Nominees in the Best of State Awards throughout Utah were rated and judged on their impact on the community; excellence and achievement within their industry; and, innovation and originality.
Published April 30, 2021