Goldenwest Opens New Branch In Eden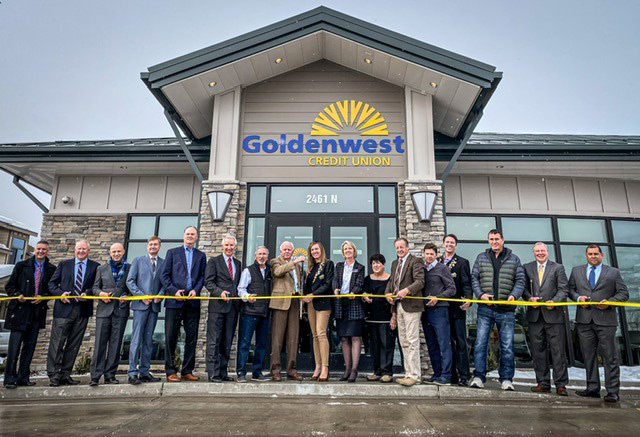 EDEN, UT: February 5, 2020 – Goldenwest Credit Union held a ribbon cutting and grand opening celebration today for a new branch located at 2461 N Highway 158 in Eden.
"The enthusiasm we have received from the residents of Ogden Valley for this Goldenwest office has been amazing," said Kerry Wahlen, Goldenwest President/CEO and local Ogden Valley resident. "If you need anything from our Eden Branch team, you can find our personal cell phone numbers in the Goldenwest ads published in the Ogden Valley News."
Wahlen noted that all of the Goldenwest staff members working at the Eden Branch live in Ogden Valley, stating "We are your neighbors, and we couldn't be more excited to bring our Credit Union to this area."
Goldenwest Board Chairman Bill Hart, joined Wahlen, other Board members, Credit Union officers, managers and employees to officially open the new branch. Weber County Commissioner Gage Froerer and the Ogden/Weber Chamber of Commerce Spikers also participated in the ribbon cutting ceremony.
"Goldenwest will be a great contribution to our community," added Commissioner Froerer.
Andrea Summerhays has been selected to supervise all branch activity and originate mortgages. Tyler Holbrook will provide insurance services from the new office.
The Eden branch features drive-thru teller lanes and ATM, a Personal Teller Machine in the lobby as well as traditional teller stations. The branch offers a full range of services including vehicle loans, mortgages, lines of credit, insurance, free checking, and instant-issue Visa cards.
Published February 10, 2020