Goldenwest Opens New Branch In Centerville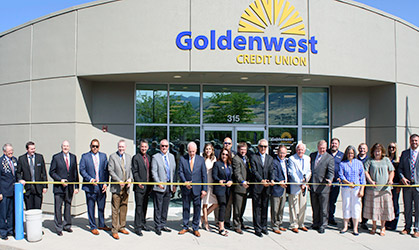 Centerville, UT: June 30, 2017 – Goldenwest Credit Union held a ribbon cutting and grand opening celebration on June 30, 2017 for a new branch located at 315 North Marketplace Drive in Centerville. The branch recently relocated from inside Dick's Fresh Market on Parrish Lane to the new site.
"We are thrilled with the growth Goldenwest has experienced in this sector of Davis County in recent years," stated Kerry Wahlen, Goldenwest President/CEO. "Adding a full-service, free-standing branch in Centerville will not only allow us to better serve our existing members, but also provide greater exposure for the Credit Union to local residents, businesses and patrons."
Wahlen explained that the building will also house the health insurance brokerage that was recently acquired by Goldenwest Insurance Services.
Goldenwest Board Chairman Bill Hart, joined Wahlen, other Board members, Credit Union officers, managers and employees to officially open the new branch. Centerville Mayor Pro Tem Stephanie Ivie participated in the event, as did other Centerville City officials and several representatives from the Davis Chamber of Commerce.
Tyson Taylor will supervise branch activity, originate mortgages and provide insurance services from the new office. Taylor previously managed the Healthcare Credit Union branch on South Temple in downtown Salt Lake City. Healthcare Credit Union merged with Goldenwest Credit Union earlier this year, and operates as a Goldenwest Company.
The new Centerville branch offers a hybrid service model where members can receive personal one-on-one attention as well as experience new banking technology with two Personal Teller machines.
Personal Teller machines are a concept similar to "self check-in" at an airport or "self check-out" at a grocery store. The Personal Tellers are capable of many routine transactions that were exclusive to traditional tellers in the past. They accept large amounts of bills or checks at once, and unlike a traditional ATM, the Personal Teller machines offer a variety of bill denominations. They also allow access to the Co-op Shared Branching network, which is a perk offered to all Goldenwest members via a quick and easy one-time enrollment.
Credit Union's staff is on-site to greet everyone who enters the branch and assist them with their transactions on the Personal Teller machines. A traditional teller line is also available at the office.
The Centerville branch features drive-thru teller lanes, a drive-thru ATM, and two Personal Teller machines inside of the building. The branch offers a full range of services including vehicle loans, mortgages, lines of credit, insurance, free checking, and instant-issue Visa cards.
Published June 30, 2017