Goldenwest Credit Union Repeat "Best of State" Winner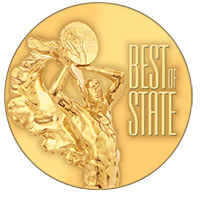 SALT LAKE CITY— August 16, 2018: Goldenwest is a repeat winner for the Utah "Best of State" award. It is the ninth year in the most recent eleven years that Goldenwest has received the medal in the credit union category.
"It's an honor to be recognized for accomplishments and growth in an industry we love," said Kerry H. Wahlen, Goldenwest President/CEO. "We will keep working hard to improve ourselves and the organization every day as we strive to help our members achieve financial success."
The Utah Best of State Awards Program acknowledges excellence in more than 200 industry sectors. Each nomination for the Best of State Awards is rated and judged on its community impact, industry achievement, and innovation. Individual nominations are judged on their own merits and are not ranked against other nominees. Ballots are directly mailed to a certified public accounting firm and tabulated for accuracy. Best of State medal winners were recognized during the Awards Gala presentation in Salt Lake City on May 17, 2018.
Published August 16, 2018