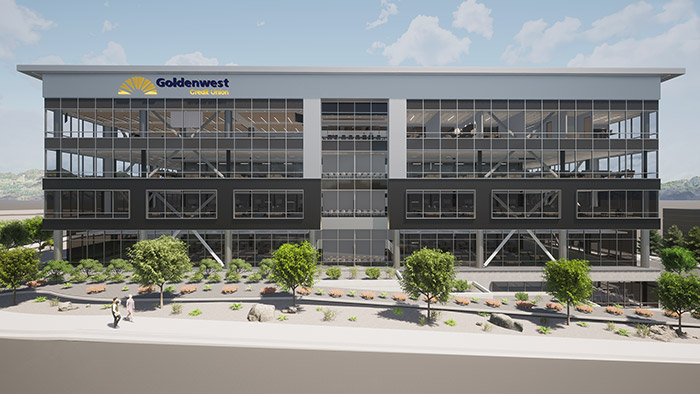 Goldenwest Celebrates Groundbreaking of New Corporate Center
Washington Terrace, Utah: May 10, 2022 – Goldenwest Credit Union marked a significant milestone recently with a groundbreaking ceremony for a new corporate center located at 5100 South Washington Boulevard in Washington Terrace.
The five-level, 99,000 square-foot, mixed-use building will be constructed on a four-acre parcel of land that is west of Goldenwest's current corporate headquarters in South Ogden, and north of the Credit Union's Operation Center in Washington Terrace. The corporate center will initially provide office space for about 150 employees in departments including mortgages, financial services, commercial services, and insurance. In addition to office space, the building will house collaboration meeting rooms, multi-use areas for corporate events, and an employee wellness center. The administrative offices and Board meeting rooms will also be relocated to the new corporate center.
The Goldenwest executive leadership team has been working to acquire land and make plans for the new corporate center over the past five years.
"One of our goals in this process was to keep our facilities in Weber County, close to our roots," stated Kerry H. Wahlen, Goldenwest President and CEO. "This new corporate center is part of our commitment to provide the best and most advanced financial products and services for our members far into the future."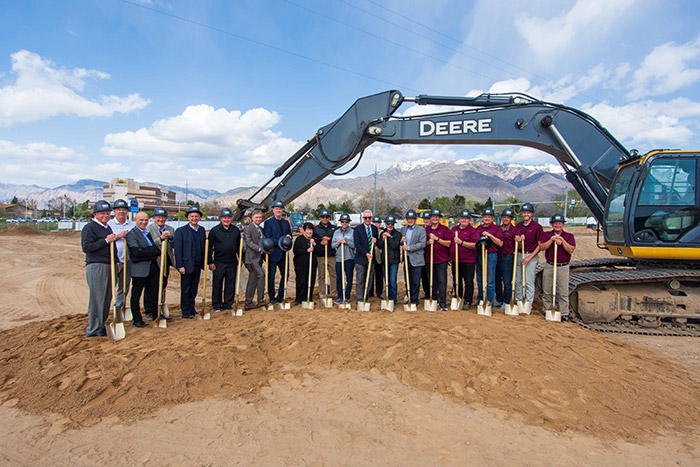 The Goldenwest Board of Directors joined in the groundbreaking ceremony along with Weber County Commissioner Gage Froerer, Washington Terrace City Mayor Mark Allen and City Council Members, Washington Terrace City Manager Tom Hansen, Weber School District Superintendent Jeff Stephens, the Goldenwest Executive Team, and several other local dignitaries and Credit Union leaders. Representatives from the contractor Wadman Corporation, the architectural firm Studio 333, and engineering firm Anderson-Wahlen & Associates were also in attendance at the event.
The first phase of the construction process is the relocation of a portion of South Pointe Drive in Washington Terrace City. The new road will run parallel to Washington Boulevard, with an anticipated completion date in early June. An additional 3.5 acres located west of the building construction site will be utilized to facilitate the Credit Union's anticipated future growth.
The architectural design of the new corporate center will offer expansive views of the Wasatch Mountains to the east, and the Great Salt Lake to the west. The building and surrounding area will incorporate designs to provide state-of-the-art technology while maximizing energy and water efficiency.
The construction of the new corporate center is expected to be completed in September 2023.
Published May 10, 2022