Goldenwest Announces Froerer As Senior Vice President of Mortgage Services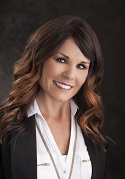 OGDEN, UT: February 25, 2020 – Goldenwest Credit Union recently announced that Tonya Froerer was promoted to Senior Vice President of Mortgage Services. In her role, Froerer is responsible for leading the 40-person Mortgage Services team in providing the ultimate home financing experience for new and repeat home buyers across Utah.
Froerer's career with Goldenwest spans 20 years serving in various roles across the organization. In 2006, she took the leadership role at the Roy office when she was named branch manager. Froerer's success and drive resulted in promotions to Assistant Vice President in 2012 and Vice President in 2015. In 2018, Tonya was named Vice President of Mortgages Services across the organization.
In 2019, Froerer led the Goldenwest Services Team to record-heights, with more than $461 million in new mortgage production. She hit a personal-best in her own mortgage production with more than $53 million. Her professional nirvana is helping members obtain the "American Dream" of home ownership.
Froerer is known in the local mortgage industry for cultivating meaningful relationships with members, realtors, home builders, and other mortgage professionals in Utah.
In addition to leading the Mortgage Services Department, Froerer serves on the senior leadership team for the Credit Union and on the loss mitigation committee.
Outside of work, Froerer focuses on her family as the mother of two young men. When she has time for herself, she enjoys marathon running, skiing, and anything else that pushes her outside of her comfort zone.
Published February 25, 2020