Working Together During COVID-19
March 20, 2020
We extend our best wishes to you and your family during this unprecedented time. We continue to closely monitor COVID-19 reports from Governor Herbert, the Utah Department of Health, and other reputable sources.
At Goldenwest Credit Union, we are taking actions on several fronts to be a responsible community citizen and do our part to slow the spread of COVID-19. With the support of our Board of Directors, we transitioned branch operations at several locations to serve members through the drive-up teller windows only. Select Goldenwest, USU Credit Union, and Healthcare Credit Union branches are open for both full lobby and drive-up services. Many other financial institutions in Utah have instituted similar "social distancing" practices at this time.
Fortunately, Goldenwest offers user-friendly account access from the convenience of your home with online banking and the mobile banking app. Membership applications, deposit accounts, and new loans can be opened at gwcu.org or over the phone with our member contact center representatives at 801-621-4550, option 2. Most loan documents can be finalized remotely with our electronic signature service.
If you were surprised by Utah's biggest earthquake since 1992, you are not alone. Did you know that most insurance companies will not allow people to add earthquake insurance to their homeowners' policies in the first 30 days following an earthquake? The good news is that Goldenwest Insurance Services has a carrier option to allow members to add earthquake insurance without delay. For a free quote on earthquake insurance, or if you're looking for ways to decrease the cost of your homeowners' policy, we have local agents ready to serve you. Free quotes are available online and over the phone with our local Insurance Contact Center agents at 888-853-8992.
Goldenwest Credit Union is federally insured by the National Credit Union Administration (NCUA). Not one penny of insured savings has ever been lost by a member of a federally insured credit union. Goldenwest continues to be a safe place for you to save your money, with deposits insured up to at least $250,000 per individual depositor. NCUA has provided information to structure accounts with different joint owners and beneficiaries for higher insurance limits. The NCUA's federal insurance is backed by the full faith and credit of the United States government.
Our Credit Union is a strong and stable financial institution. The sound policies and practices we have adhered to for many years will allow Goldenwest to stand the tests of time, and serve members in Utah for decades to come. It is our privilege to unite with you as we combat the challenges arising from the worldwide COVID-19 virus.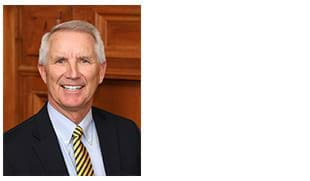 Kerry H. Wahlen
Email: president@gwcu.org
Twitter: @goldenwestcuceo