Best of Goldenwest in 2019
February 5, 2020
Goldenwest had a remarkable year in 2019, from our strong financial performance to the introduction of many new features on our online and mobile platforms. Here is a quick review of some of our proudest moments from the past year.
• $2 million dividend paid to members in December.
• $188.5 million growth in total assets to $1,740,656,469.
• $460 million in secondary-market mortgage origination.
• $125.7 million in consumer loans, for a 10.36% annual increase.
• Return on assets reached 1.66%.
• Net capital ratio increased to 14.08%.
• Delinquency dropped to 0.20% and net charge-offs remained low at 0.33%.
• Goldenwest Insurance Services wrote $2.2 million in new home and auto insurance, and an additional $1 million in commercial insurance – savings our members hundreds of thousands of dollars in premiums.
• New branch opening on St George Boulevard in Utah's Dixie.
• Online and mobile account openings for savings accounts, checking accounts, certificates, and money market accounts.
• Credit card photo balance transfers within the mobile app.
• Online Quick Quotes for home and auto insurance.
• Alignment of the debit card rewards program with the more popular credit card rewards program.
• Introduction of Reward Yourself Checking for better rates on personal loans and bonus rewards points on credit and debit cards.
• Dozens of Medicare Seminars for our seniors across the state, including in-branch Medicare plan enrollment services.
• Multiple awards and recognitions, including "Best of State" in the Credit Union category, "Best Companies To Work For" by Utah Business magazine, and an A+ health rating by DepositAccounts.com.
• Community outreach and charitable giving to many organizations and institutions, including: Utah State University; Weber State University; the Cystic Fibrosis Foundation of Utah; Catholic Community Services; Weber School Foundation; Davis Education Foundation; Washington County School District Foundation; the American Heart Association; Intermountain Healthcare; and, the Days of '47.
2020 Outlook
This year started with a celebratory ribbon cutting for our Eden Branch located in the beautiful Ogden Valley. We have announced new branches for Bluffdale on Redwood Road and in the Sun River Development of St George. Plus, we have plans to relocate the Orem branch in the spring, and the North Logan branch in the fall. In addition, our branches in Downtown Salt Lake City and in Murray will be re-branded from Healthcare Credit Union to Goldenwest Credit Union.
We are in the final months of implementing a new multi-channel account opening and loan origination system. Our members will soon enjoy a best-in-class experience wherever and whenever you apply for a deposit account or a loan product – regardless if you are at a branch, on your laptop, using your mobile phone, or calling our member contact center.
For our business members, we have several new product launches that will take place mid-year. Stay tuned for exciting announcements coming soon.
We are always mindful that our Credit Union's success would not be possible without they loyalty of our members and the efforts of our talented employees. Furthermore, we are appreciative our Board of Directors and Supervisory Committee Members who volunteer their time and expertise on behalf of our 143,000+ members.
Thanks to everyone who readily lends their support and resources to our Credit Union family. Together, we will reach new heights in 2020!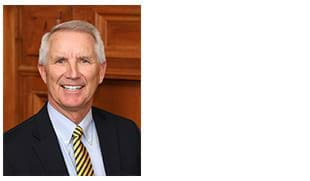 Kerry H. Wahlen
Email: president@gwcu.org
Twitter: @goldenwestcuceo