5 Money Saving Tips for Disneyland
January 9, 2019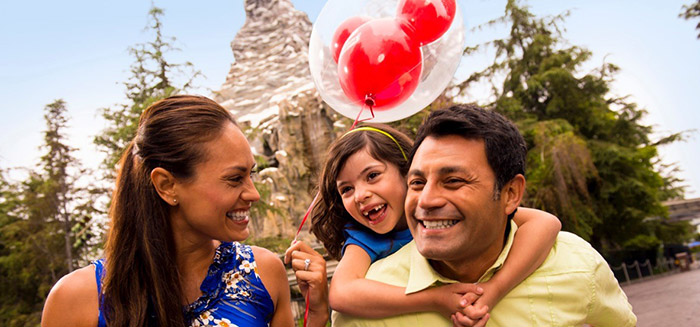 While planning a trip to Disneyland is always magical, it can be stressful trying to find the best deal. Here at Goldenwest Credit Union, we believe that taking a family vacation to the Disneyland Resort shouldn't have to be stressful. After all, it's called The Happiest Place on Earth! This is why we've partnered with Get Away Today to give you our top money saving tips for Disneyland.
1. Spring Ticket Savings
If you aren't sure when to take your next vacation, we highly recommend visiting Disneyland during the spring. When you travel from January 7 – May 23, 2019*, you can save up to $91 per ticket! Not only will you be able to beat the summer crowds, but you can also experience seasonal celebrations like Get Your Ears On: A Mickey and Minnie Celebration, Lunar New Year and the Food & Wine Festival. With a deal like this, taking a vacation to the Disneyland Resort is more affordable than ever before.
2. Bundle & Save
Southern California is home to some of the world's best theme parks, which is why Get Away Today wants you to experience all the fun. With Get Away Today's Combo Tickets, you can bundle and save BIG on attractions like Disneyland, Universal Studios Hollywood, Knott's Berry Farm, SeaWorld San Diego and more!
3. Hotel Deals
When you book with Get Away Today, you'll be able to receive exclusive rates and perks for your next hotel stay. With amenities like free parking, free breakfast and even free night specials, you can save hundreds on your vacation to the Disneyland Resort. Plus, their travel experts will make sure to find the perfect hotel for you and your family, so you can feel at home even when you're away.
4. Plan in Advance
By planning your vacation in advance, you're able to get a head start on the best deals for hotels and tickets. With Get Away Today, you're never penalized for booking early. If you see a better deal come along, they'll happily refund you the difference. Plus, you'll have tons of hotel availability to choose from!
If you're planning a 2019 vacation, we highly recommend taking advantage of Get Away Today's interest-free Layaway Plan. For just $175 down, you can book your vacation to the Disneyland Resort as soon as you think of it. The best part? You can make as many flexible payments as you'd like, just as long as everything is paid off 15 days before you check in. All you'll need to worry about is how much fun you're going to have!
5. Visa Rewards Credit Card
At Goldenwest Credit Union, we want to make sure your financial and vacation dreams come true. Because of this, we offer our Visa Rewards Credit Card that allows you to receive travel rebates on airline tickets, hotel stays and rental cars. Looking for a cash back option? You can do that too. With our Visa Rewards Cards, you'll be able to enjoy attractive rewards without the high interest rates.
As you can see, taking a vacation to the Disneyland Resort doesn't have to be financially straining. To book your next vacation, visit getawaytoday.com or call 855-GET-AWAY to speak to a travel expert directly. Let them know that Goldenwest Credit Union sent you, for a portion of each vacation package will be donated to Children's Miracle Network Hospitals.
*Actual savings vary per ticket and are calculated based on annual park pricing. Largest savings are available during travel value dates January 7 – May 23, 2019, excluding blackout dates of April 14-22, 2019.